General election 2019: Labour vows Budget 'to end austerity' in first 100 days
---
John McDonnell has promised to "end austerity" in a speech setting out Labour's priorities for its first 100 days in government.
The shadow chancellor vowed to "remake government" with a Budget on 5 February if his party wins this Thursday's election.
He also detailed how newly nationalised water and energy firms would be run.
The Tories are also pledging to increase public spending, but not on the same scale.
They have criticised Labour's spending plans as "reckless", claiming they would lead to an economic crisis within months of the party taking office.
Conservative leader Boris Johnson is visiting Labour-held seats which voted for Brexit in the north-east of England on Monday, with three days to go until polling day.
Labour leader Jeremy Corbyn will tour Labour target seats in the south of England.
Meanwhile, SNP leader Nicola Sturgeon said she was confident an agreement on another Scottish independence vote could be done with Labour, if it needed her party's support to form a government in the event of a hung parliament.
But Mr Corbyn has ruled out supporting a Scottish independence referendum until after the next Holyrood election in 2021.
As the parties begin their final push for votes, the Liberal Democrats are pledging to table legislation to stop Brexit immediately after the election by introducing two draft bills they say would pave the way for another EU referendum.
'Market forces'
Labour is proposing a big increase in spending on public services and social security, to be funded by higher taxes on companies and better-off workers, plus government borrowing.
It is also planning to take train companies, Royal Mail, the water industry, and the big six energy firms into public ownership – and part-privatise BT Openreach.
Speaking in London, Mr McDonnell said Labour's planned February Budget would mark "the date when almost ten years of cuts will come to an end".
He said: "In our first hundred days, we will start the process of bringing water and energy into public ownership.
"We'll set up boards to run them made up of you, the customer, and you, the worker, as well as representatives from local councils, metro mayors and others.
"We'll make sure decisions are taken locally by those who understand the services – those who use them and deliver them. Meetings will be public and streamed online with new transparency regulations set higher than ever before.
"So you can see if your road is being dug up, why, and for how long. And we'll create new People's Assemblies to hold these boards to account and give everyone the option of participating in how their utilities are run."
He also outlined Labour's plans to invest in green industries, skills training and regional development, attempting to reverse the decline of manufacturing and the growth of "dreary, exploitative, insecure and low-paid jobs".
'Destroying confidence'
He pledged that a National Transformation Fund Unit, based in the north of England, would be set up before Christmas.
His party also wants to set up a National Investment Bank – which also featured in the party's 2017 manifesto – which would have £250bn to lend, with a focus on small businesses whose work ties in to the government's industrial strategy.
Mr McDonnell defended his tax policy in the face of criticism from the telecoms tycoon John Caudwell, who said Labour's anti-billionaire rhetoric was "destroying confidence" and making wealthy people like him feel "almost like pariahs".
The Phones4u founder told Radio 4's Today programme that some within Labour "despised" success and its economic plans were driven by "envy", suggesting that droves of entrepreneurs would leave the country if Mr Corbyn won power.
In response, Mr McDonnell said his plans had been "exaggerated" by sections of the media.
While he hoped the rich accepted they had a social responsibility to address the UK's "grotesque" levels of inequality, it was in the end a "moral choice" whether they wanted to stay in the UK or leave, he added.
What are the other parties proposing on tax?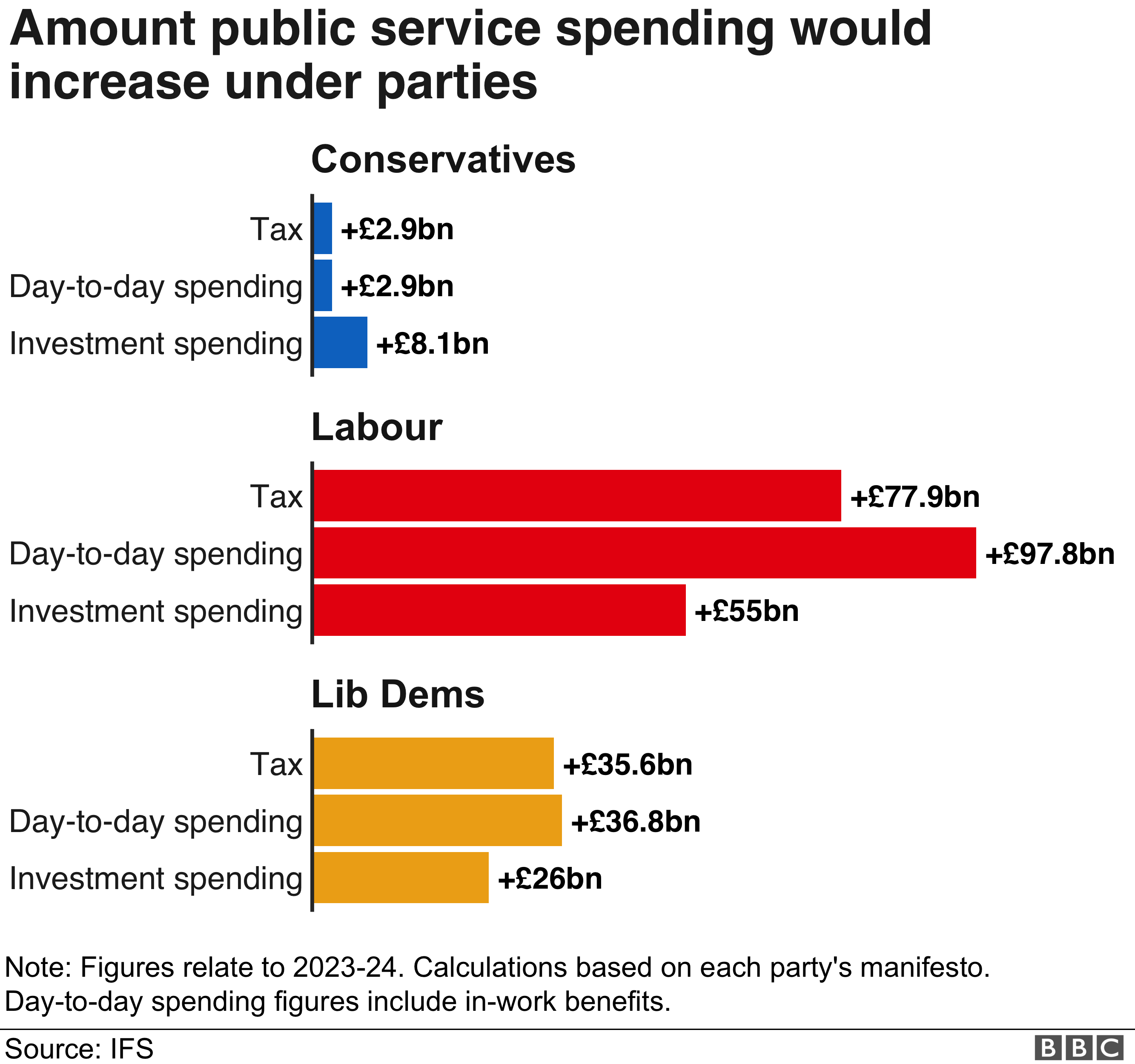 The Tories, Lib Dems and Labour all say they would take advantage of low interest rates to borrow money to invest in infrastructure.
Labour and the Lib Dems would also increase corporation tax, while the Conservatives have scrapped a plan to reduce it.
Labour says it would increase taxes on the top 5% of earners, those taking home £80,000 a year or more, although Mr Corbyn has conceded that some people on low incomes could also pay more tax under the party's plans.
The Conservatives have pledged to freeze National Insurance, income tax and VAT rates and promised a tax cut in their first Budget by increasing the National Insurance threshold, so workers will not have to pay it until they earn £9,500.
---