A brother and a sister allegedly kidnapped by their father in Germany are searched for in Tenerife
---
The missing SOS platform has launched an alert on Sunday about the disappearance of a brother and a sister, Kristian Toska and Amantia Toska, 11 and 10 years old. They were last seen on January 17, 2021.
The minors had reportedly been abducted in Germany by their father, who was also missing. The German police have now contacted the Spanish authorities requesting their cooperation since one of the open lines of their investigation indicates that the father of the two children may have travelled to Tenerife with their children.
From SOS disappeared they ask for citizen help and explain that Kristian is of thin complexion, has brown hair, brown eyes and wears prescription glasses. Amantia is also of thin build, has brown, long and curly hair and, in addition, has brown eyes.
Unfortunately, this has not been the only case of disappearance of minors in Tenerife this year. Tomás Gimeno disappeared with Anna and Olivia, his two daughters, in Tenerife on April 27. On June 10, the body of Olivia was found when the ship of the Spanish Institute of Oceanography that was in Tenerife to help found clues about the disappearance of the girls in Tenerife.
The oceanographic vessel Ángeles Alvariño stopped searching for Anna and Tomás Gimeno in Tenerife because they described the search and tracking work as "unapproachable" and the Court of Violence on Women number 2 of Santa Cruz de Tenerife authorized the cessation of the search. The main problem is the orography of the land.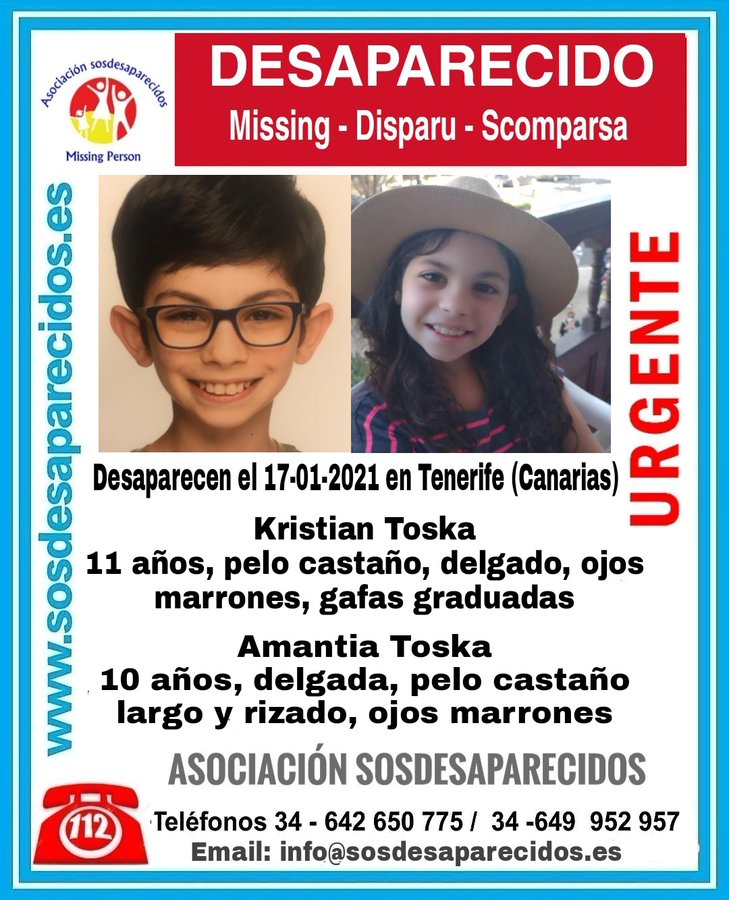 ---