The last message from the father of the 2-year-old boy who died in a hotel in Barcelona: "I leave you what you deserve"
---
The agents are still looking for the alleged author of the death of the 2-year-old boy who has been found dead in the room of the Concordia hotel, located on the Parallel Avenue in Barcelona.
The last message the little boy's mother received was: "I leave you what you deserve". She received several threatening messages from him, among others, that if she separated "she would regret". At that moment she feared the worst and warned the police. Unfortunately, when the agents arrived at the hotel, they could do nothing to save his life.
The Mossos ask for citizen collaboration and have published their photo on social networks: "We are looking for Martín Ezequiel Álvarez Giaccio as a person related to the death of his son in Barcelona. If you have information, call 112".
According to the Catalan police, the man's name is Martín Ezequiel Álvarez Giaccio, he is 44 years old, 1.78 centimeters tall, has shaved hair, trimmed beard, athletic build and brown eyes.
Also, at the time of his escape he was wearing a grey T-shirt, jeans, red trainers and was not carrying any kind of bag or backpack.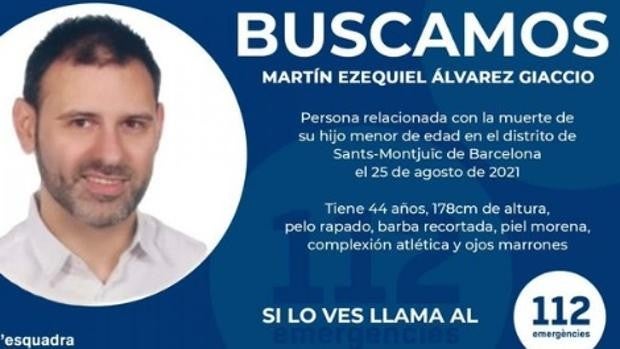 The hotel's security cameras show him fleeing after jumping the hotel pool fence. Also, it is seen that shortly before the escape, the father of the minor opens the door of the room facing the corridor to supposedly check that there was no one there.
Despite extensive ground and air policing, his whereabouts have yet to be determined.
---