The striking images of the ash of the volcano of La Palma covering the houses
---
The ash from the La Palma volcano covers everything. The Palmeros have seen houses, roads and crops change from their natural color to a shade of black. The images recall the last winter when a white blanket of snow filled much of the peninsula by the Filomena storm.
The workers and neighbors work tirelessly in La Palma to remove from doors, ceilings and windows the ash that dyes the island black.
The accumulation of ash is causing countless damage to buildings that have not been directly affected by the lava. The Cabildo of La Palma has advised to try to sweep the ash or to use methods that do not imply, in any case, pouring water.
According to the meteorological forecast, from 15 and 16 October a mass of continental and dry air is expected to enter, which will bring down the base height of the thermal reversal and make it steeper, weather conditions would therefore be unfavourable from the point of view of air quality.
The volcano is throwing a plume of gases at 3,000 meters high with high amounts of sulfur dioxide, 17,774 tons daily, and that measure would have to go down to 100 for the eruption to come to an end, said the spokeswoman for the scientific committee of the Canary Islands Volcanic Emergency Plan.
The technical director of the Pevolca, Miguel Ángel Morcuende, has reported that the flow of the northern flank of the volcano, which flows to the west and northwest and that on Tuesday forced the evacuation of some 800 residents of the neighborhood of La Laguna, in Los Llanos de Aridane, "advances very slowly".
Based on information from Copernicus satellites, there are 1,541 buildings or constructions affected, of which 1,408 have been destroyed. The data obtained from the cadastre reduce the figure to 937, of which 763 were for residential use, 89 for agricultural use, 45 for industrial use, 22 for leisure and hospitality and 18 for public use. Regarding the number of people, 6,400 people have been evacuated, 5,700 in the first phase of the eruption and another 700 on Tuesday.
People have not wasted doing business of this disaster and in recent weeks an ad was published on Ebay that sold ash from the volcano of La Palma. The publication reflects that it is a bag containing 50 grams of ash from the erupting volcano and specifies that it is sold at 20 euros per unit, plus two euros as a shipping cost.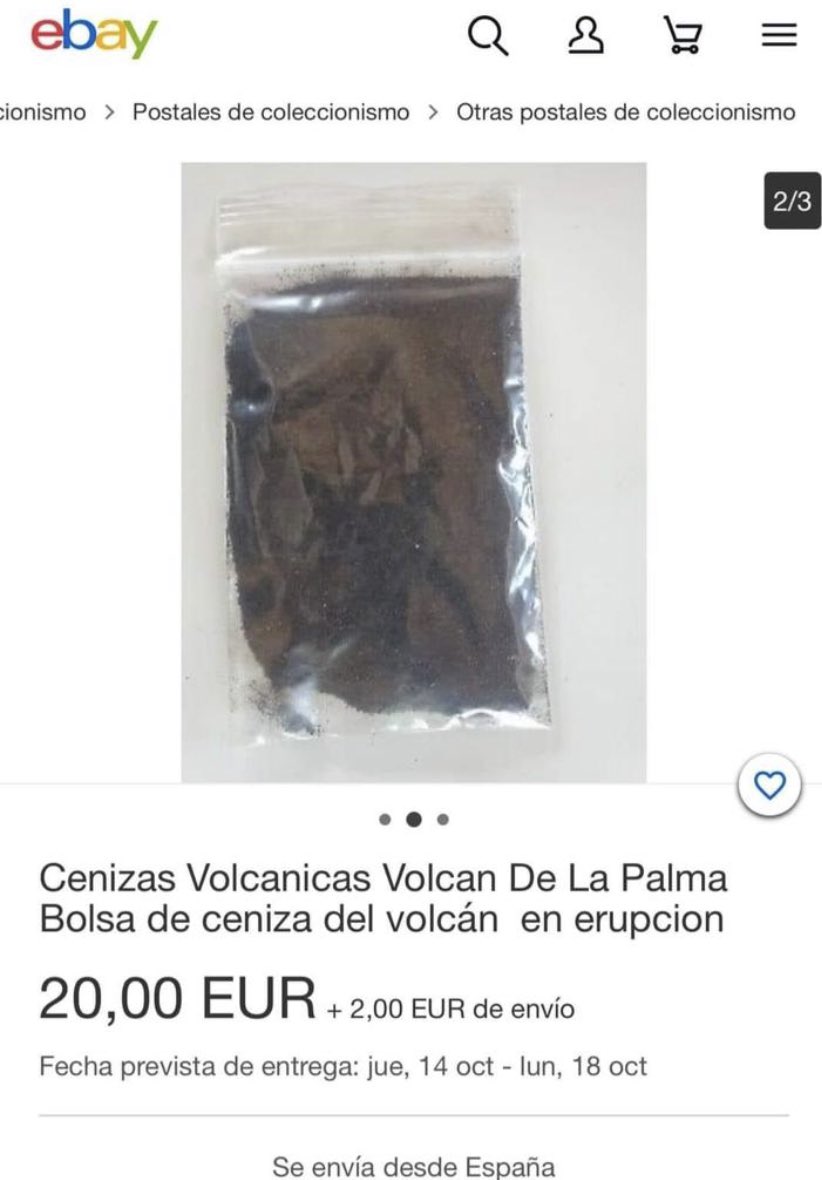 ---