Drugs Indiscriminately Injected, the Possible Cause of Tragedy at Travis Scott's Concert
---
50,000 people attended the concert of Travis Scott in Houston (United States), what no one imagined is what happened next. An avalanche in the compound killed eight people. Now the investigation determines that drugs may have been responsible for everything.
The tragedy originated when the performance start timer began to set the countdown for Scott's entry on stage. An instant in which, according to the investigation conducted by the police, a man was injecting drugs to other people and even stabbed at least one security guard in the neck with a needle. Result: he was knocked unconscious.
That is why the investigation conducted by the Houston police has determined that the acts had a criminal character and are involved homicide and narcotics units. The Houston police chief, Troy Finner, has said this through a press conference, revealing that "an individual was injecting drugs to other people".
And there's evidence. A security guard was attacked and stabbed with a needle in his neck. "He grabbed a citizen, pricked his neck and went unconscious," Finner added. The problem is that it was not a single case, but that several people were in the same situation. That's why the police soon had to administer an antiopiáceo to avoid an overdose. And at that point, when the rest of the attendees noticed, the avalanche began. An avalanche that ended with eight dead, two of them minors.
"My ribs were being crushed, I had someone's arm on my neck, I was trying to breathe but I couldn't," said Niaara Goods, concert attendant and avalanche-affected.
A situation in which Travis Scott from the stage claims to have stopped as soon as he noticed. The problem is that many believe that his reaction was slow and that he remained passive before the images that happened in front of his eyes. He, in any case, has expressed his concern.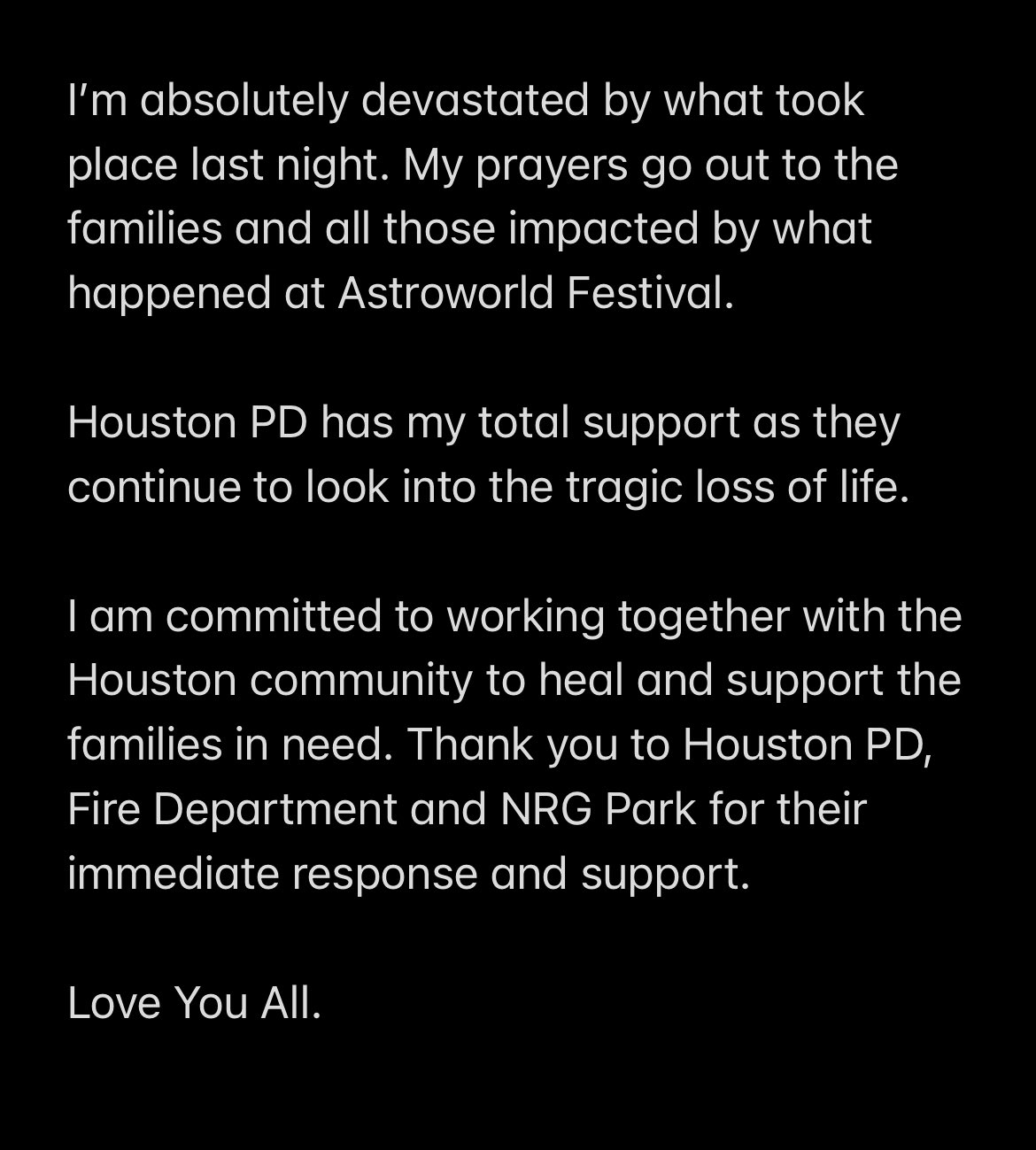 "I am absolutely devastated by what took place last night," Scott began by saying through a message via Twitter. "My prayers go out to the families and all those impacted by what happened at Astroworld Festival," he added before acknowledging that he will collaborate with the research and give all possible support to the affected families.
About the concert, through a video on his social networks, he acknowledged that "I stopped the show [as soon as he realized] and got help. I could never imagine the gravity of the situation". The problem is that it took him at least 40 minutes to realize it. A reaction that was also maintained by many attendees, who remained unaware of the tragedy and indirectly collaborated with the situation of overwhelm in full avalanche.
For its part, the promoter Live Nation, responsible for the festival, has revealed that it will offer "all possible information and assistance to the local authorities that investigate the situation". Security plans, outsourced to the compound, have also been questioned. Two weeks ago, another concert was cancelled at the same venue.
---