Police are looking for three minors who disappeared with their mother last Sunday, when they were picked up
---
The National Police reported on Monday that they are still looking for three minors, all brothers, five, seven and nine years old, disappeared since last Sunday in the municipality of Aranjuez. These are three children who are currently being cared for by the Community of Madrid and that is why we are asking for citizen assistance.
The children were last seen on 14 November, when the mother of the children picked them up from a children's home. The parent was supposed to return them that afternoon, but none of them returned, which has triggered an alert about a possible abduction by the mother, after more than a week without news about the children.
The Consejería de Familia de la Comunidad de Madrid has already filed a complaint against the mother and the National Police has requested the help of citizens on their Twitter account, providing photographs of the three children who are currently unaccounted for, with a contact phone to talk to the authorities if anything is known about them.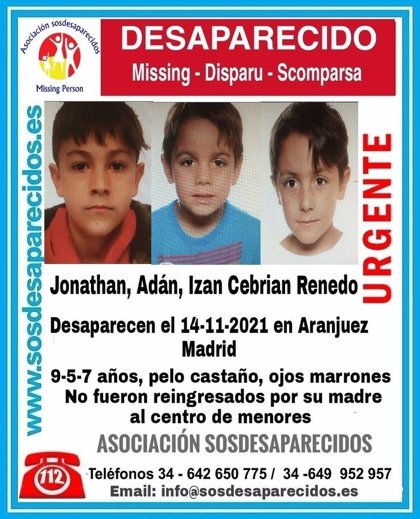 The father of the children believes that the mother could have taken them "out of desperation". Both have been separated for some time, but he has managed to get his custody back part-time.
Nieves (the mother's name) could have gone with the children to Córdoba, where the authorities are looking for the minors in addition to the capital, Madrid, where the autonomous community had the guardianship of minors.
The parents and grandparents of the children were the ones who alerted the authorities to the disappearance of the children, and they are waiting for new news about the whereabouts of the children, while their search continues more than a week later.
---