Search in progress for 3 missing minors in Madrid and Murcia
---
Three missing minors are wanted. Two are wanted in Madrid and one in Murcia: Lucía Cebrián Rodríguez, María Isabel Gutiérrez Vidal and Tania Fernández Alonso. Maximum dissemination and citizen collaboration is requested to find them.
The three minors, aged 13, 15 and 17, disappeared this January on different days. Lucia and Maria Isabel disappeared in Madrid, while Tania disappeared in Murcia.
Her name is Lucía Cebrián Rodríguez and she is 13 years old. She disappeared on January 19 in Villanueva de la Cañada, in Madrid, and since then nothing is known. She's 1.60 m , slim build, blonde hair and greenish brown eyes.
María Isabel Gutiérrez Vidal disappeared last January 9 in Getafe, in Madrid. The young woman is 17 years old, she is 1.30 m and has a slim build. She also has long black hair and brown eyes.
Tania Fernández Alonso is another of the disappeared in the town of Jumilla, in Murcia. Since last January 16, they know nothing about her. She's 15 years old, she's 1.65 m , and she has light brown hair.
In addition, Tania has heterochromia. This means that her right eye is brown, while her left eye is green. The last time he was seen she was wearing a raw sweatsuit and a leopard coat.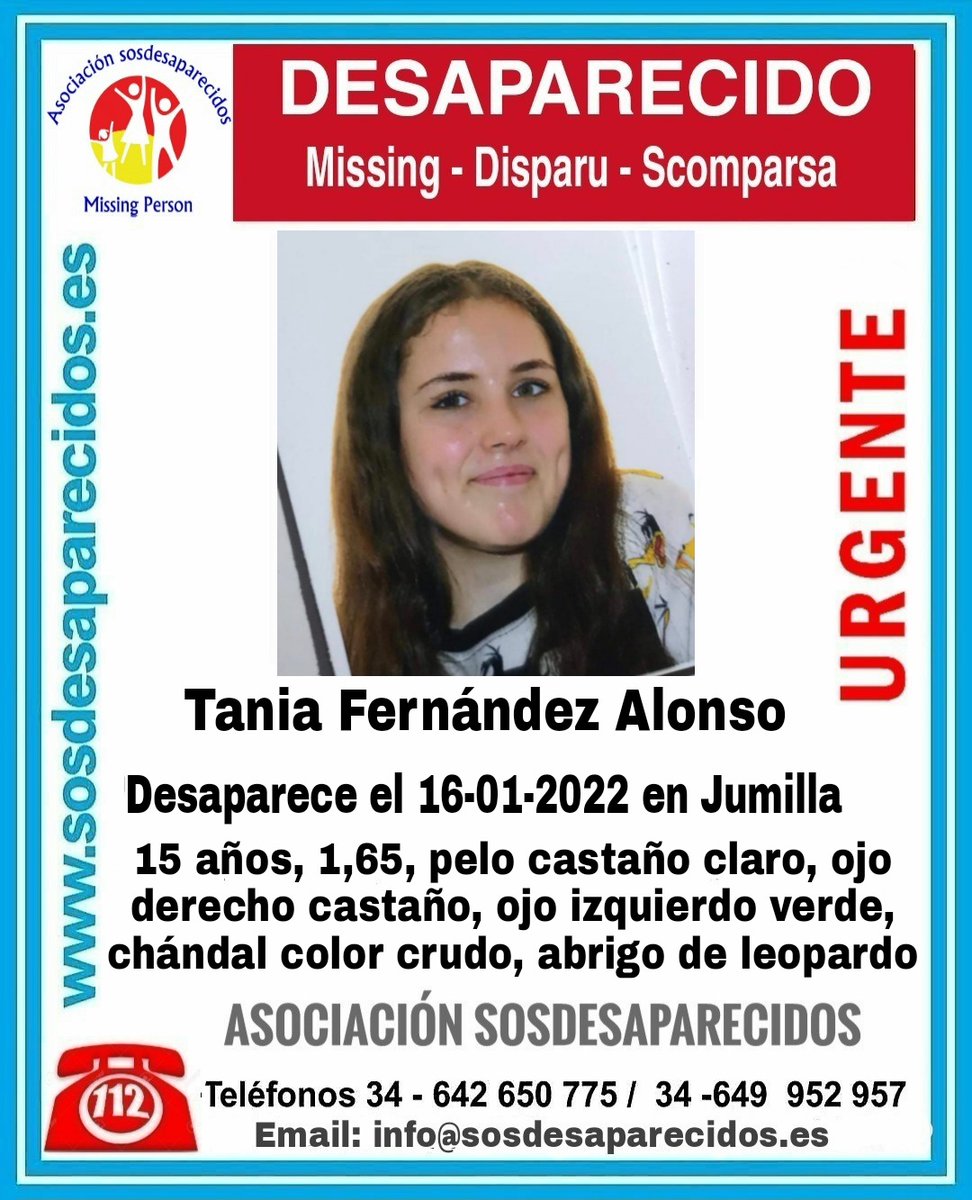 The SOS Disappeared Association has spread the alert through social networks to locate them healthy and safe as soon as possible. For this purpose it has several contact modes via two telephones: 642 650 775 and 649 952 957. Also via email: info@sosdesaparecidos.es.
---