Russia denounces the bombing of the children's hospital in Mariúpol as 'fake news'
---
Last Wednesday, Ukraine accused Russia of the "atrocity" of bombing a mother-and-child hospital in the port city of Mariupol, heavily besieged by Russian forces. The attack occurred during the ceasefire so that civilians could leave through humanitarian corridors. Now, Russia denies the bombing of the hospital and claims that this is fake news. The Kremlin claims that the hospital was already taken by Ukrainian troops for a long time and that it had become a "military object by radicals"
"They have killed the children of Mariúpol, the children are dead. That is what they wanted with this operation", exclaimed President Volodymir Zelenski after the bombing of the maternal and child hospital in Mariúpol. The Ukrainian president does not believe in the attack and calls for more international support. The UN has condemned the attack and calls for "the immediate cessation of attacks on health facilities, hospitals, health workers, ambulances," said its spokesman, Stéphane Dujarric.
The city of Mariúpol has become a war-torn city in Ukraine. Residential areas are subject to daily Russian attacks and bombardments. The buildings are collapsing and since his government have denounced and reiterated on many occasions that the Russian troops had blocked the city, preventing the evacuation of civilians.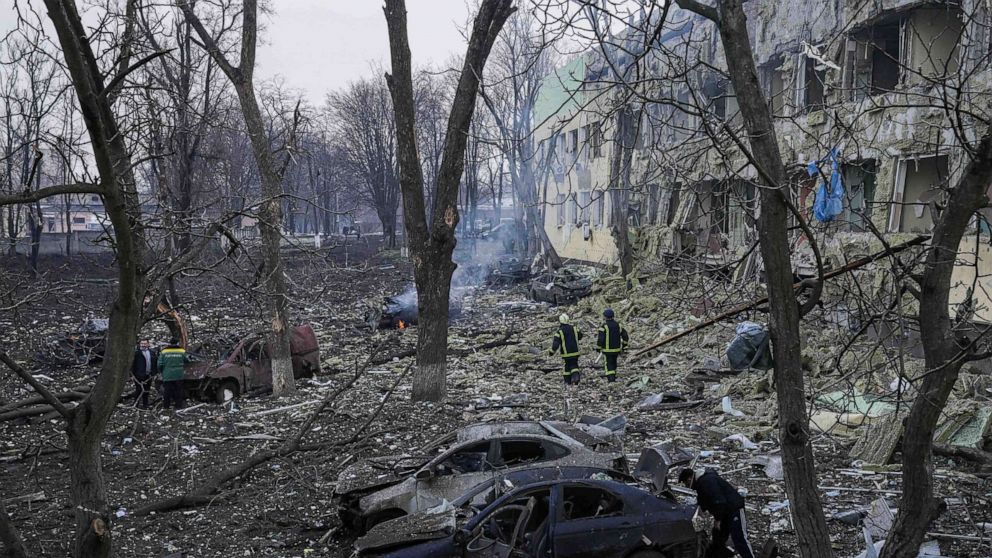 The First Deputy Permanent Representative of Russia to the United Nations, Dmitry Polyanski, says from his Twitter account that "this is how fake news is born". Denunciation that they warned in a communiqué "on March 7 that the hospital had become a military objective by the radicals". " It is very worrying that the UN spreads this information without verification," Polyanski said.
Despite the Kremlin's statement, the intensification of the Russian offensive on Ukrainian cities continues unabated. Vladimir Putin's goal remains the capture of Kiev and Odessa and they will not stop moving until they do. The UN has estimated 516 civilians killed by the war in Ukraine and 908 have been injured. They warn that the real figure is much higher.
The Ukrainian authorities and Volodymir Zelensky himself have published devastating images of the maternal and child hospital in Mariúpol. The videos show the destruction and chaos of the war. The Ombudsman of Ukraine, Liudmila Denisova, denounces the death of 62 children since the beginning of the Russian invasion on 24 February.
---